Climate Change in Science Education: Survey Results
To listen to this episode,
download
the mp3 directly, find us on
iTunes
, or use the player below.
In February, the journal Science published an article entitled "Climate Confusion Among U.S. Teachers" that has been attracting a great deal of mainstream media attention. Examining a nationwide survey of how middle school and high science teachers address climate change in their classes, the article reveals some encouraging insights and uncovers a few areas for improvement. To help us better understand the impact of this article, we welcome Dr. David Evans, Executive Director of NSTA, to the show. Dr. Evans joins us to discuss the results of the survey, suggests how recent implementation of the Next Generation Science Standards play a role in this conversation, and offers some suggestions on how to better support science educators in teaching climate change.
Links:
Connect with our guest:
---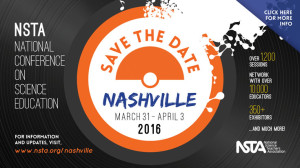 NSTA Nashville 2016
Don't forget to plan your trip to the NSTA National Conference on Science Education in Nashville, March 31-April 3.
See http://www.nsta.org/conferences/national.aspx for registration, schedule, sessions, exhibits and housing.
Don't forget to follow #NSTA2016 on social media!
---
We always love to hear from you – our listeners. Do you have any ideas for guests? What topics in science and science education need to be addressed? Submit your comments, concerns and suggestions through our contact page or tweet to us at @laboutloud.
Do you like the show?  Please leave a comment on iTunes and rate us!  And don't forget to subscribe.