Episode 72 – 2011 Science Breakthroughs of the Year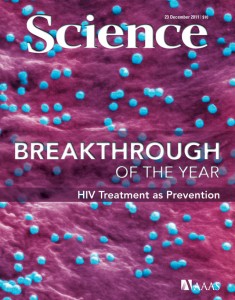 To kick off the new year, we invited Pamela Hines , senior editor at Science, to talk with us about science in 2011.  From the farthest reaches of the universe to the deepest mysteries of the cell, Hines highlights the major science breakthroughs of 2011. Listen to the episode to hear about these discoveries, and what we might expect to see in 2012.
Links
Science/AAAS cover art courtesy of Science/AAAS.  Readers may view, browse, and/or download material for temporary copying purposes only, provided these uses are for noncommercial personal purposes. Except as provided by law, this material may not be further reproduced, distributed, transmitted, modified, adapted, performed, displayed, published, or sold in whole or in part, without prior written permission from the publisher.
Featured image courtesy of lead author, Dr. Myron Cohen.
---
To listen to this episode, download the mp3 directly, find us on iTunes, or use the player below.